puzzle maniac? solve this giant one!
will it stump you? can you outsmart your friends?
Challenge your family or friends to solve this incredible puzzle! The Glacier Maze was the first life-size, 3-Dimensional maze ever built in North America. This labyrinth will amaze you with 1.5 miles of passages and overhead walkways.
The goal is not only to find your way out, but also to stamp your ticket in each of the four towers, near the corners of the maze. The stamps spell out "MAZE", and prove to your friends that you actually made it to each corner.
Once you get all your stamps, you must then find your way out one of the two exits. The "EASY WAY OUT" usually takes people about 30 to 45 minutes to find. The "HARD WAY OUT" usually takes an additional 15 to 30 minutes to find.
Get your time stamped, so you can prove you're a genius!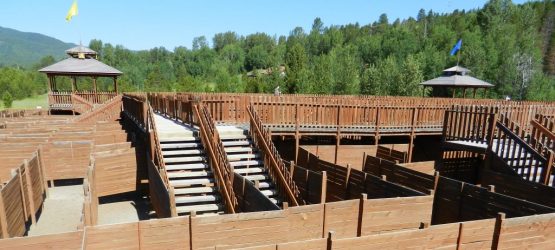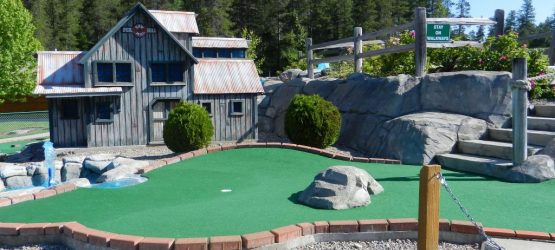 enjoy putting? check out our novel obstacles!
putt through rocks, fountains, a wishing well, and hollow logs!
The Amazing Fun Center's 18 hole, par 52, mini golf course offers an enjoyable challenge for every player. Each hole on this course is creative, interesting, and tricky. You'll shoot over, under, around, and through waterfalls, streams, and novel obstacles. Many of the greens on this course have several alternate paths that lead to the hole. You may hit through tunnels, jump over streams, or let your ball float in the water! Take a different path each time you play for a new adventure. Come and enjoy our unique creation!
It's old-west-mining themed and beautifully landscaped.
like to shoot hoops? try these!
bet you've never done these kinds of trick shots before
Do you like playing basketball? Then the Amazing Fun Center has the game for you. Our Bankshot Basketball course has 19 different hoops with unconventional backboards. The goal is to bank your ball into the hoop following the instructions given at each station from each of three colored circles to score points. People of every age and ability enjoy this kind of basketball!
Challenging and crazy fun for everyone!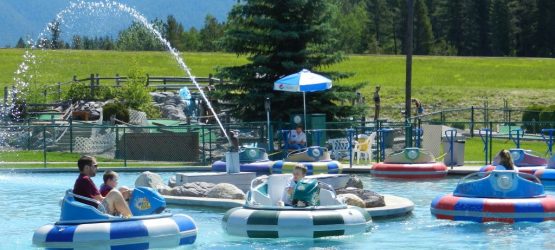 need to cool off and release your inner child? take a twirl on our bumper boat pond!
spin and squirt and just be silly
You'll have the most fun you've ever had being bumped about! Each boat has an electric squirt gun so you can soak your companions. On hot days, it's great fun to chase your friends around the island in the center of our pond and try to bump them under the water fountain. On cooler days, the fountain can be turned off at your request.
Amazing Fun Center's boats are quiet and clean with no gas fumes or noisy engines; all motors are electric. Boats hold 2-3 people. Drivers must be 44 inches tall.
It's a great way to cool off on a hot day!
always dreamed of racing cars? do it now!
this is not just your run-of-the-mill figure-8 track.
Take a thrill ride! The Amazing Fun Center's go carts are fast and exciting to race along Fast Track, Inc.'s twisting, turning, 1/4 mile track. Try it and you'll agree that this is Montana's premier go cart track.
Of course, your safety is our utmost concern. The track and cars are lined with bumpers for protection, and a track attendant can use electronic controls to slow or stop the cars if necessary for safety purposes. Drivers must be 58″ tall; riders at least 40″ tall may ride in a double go cart with a driver who is at least 18 years old.
Race in real life; not just a video simulation!